ผู้นำทางด้านเครื่องมือทดสอบค่าความดันไอ (Vapor Pressure Measurement / Automatic Vapor Pressure Analyzer) ของน้ำมันปิโตรเลียม น้ำมันดิบ ตัวทำละลายไฮโดรคาร์บอน ก๊าซปิโตรเลียมเหลว ก๊าซหุงต้ม ทั้งแบบตั้งโต๊ะและแบบ Online เครื่องทดสอบน้ำมันในน้ำ ปริมาณไฮโดรคาร์บอนในน้ำ (Oil & Grease Tester, Oil in Water, Total Hydrocarbon in Water Tester) เครื่องวิเคราะห์องค์ประกอบน้ำมันเบนซิน แก๊สโซฮอล์ น้ำมันดีเซล ไบโอดีเซล น้ำมันเครื่องบิน เครื่องวัดค่าออกเทน ค่าซีเทน โดยใช้หลักการ FTIR เครื่องวิเคราะห์องค์ประกอบน้ำมันหล่อลื่นใช้แล้ว Oxidation, Nitration, Soot และ Additives เป็นต้น และเครื่องวัดค่าจุดวาบไฟแบบใช้ตัวอย่างน้อยสำหรับน้ำมันดีเซล น้ำมันก๊าด ตัวทำละลาย สี ยาฆ่าแมลง หัวน้ำหอม เป็นต้น
TRUSTED SOLUTIONS. RE-IMAGINED.
Reliable high performance instruments for petroleum testing engineered and manufactured by eralytics combine precision, speed, versatility and the ease of use in a well-balanced relation. Their development and output represent more than 20 years of close co-operation with international customers and partners, and the observance of their core requirements.
ERAVAP - Vapor Pressure Testing at its Best

ERAVAP Models
· ERAVAP
ERAFLASH - The Safe Side of Flash Point Testing

ERAFLASH Models
· ERAFLASH
Unattended flash point testing of up to 10 samples

FAME in Jet Fuel Testing: Fast, Precise, Portable

ERASPEC - Spectral Fuel Analysis in Seconds
ERASPEC OIL - The Latest Trend in Oil Condition Monitoring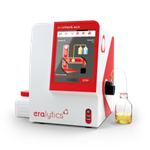 ERACHECK Models
Compact Portable Stand-Alone Analyzers
All eralytics laboratory instruments are compact stand-alone analyzers with a built-in industrial PC. Their lightweight but rugged metal housing and the integrated carrying handle make them ideally suited for mobile applications. Their small footprint makes them the best choice for use in the lab, in mobile laboratories or in the field.
They can be operated from 85 – 264 Volts or with an available adapter even run from vehicle batteries.
Multilingual Touchscreen Interface
As a globally recognized brand in petroleum testing equipment eralytics soon realized that it is essential to offer graphical user interfaces in local languages to make our instruments easy to operate. Therefore our software can be fully translated to any language.
Currently we offer English, German, Italian, French, Russian, Chinese and many other languages. Ask your local representative if your language is available already.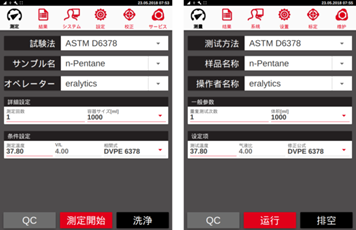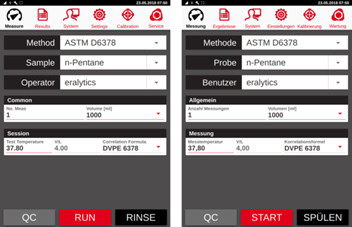 Comprehensive Input Options
Touchscreen
Our analyzers are all equipped with a 8.4″ full color touchscreen for easiest usage in the lab.

Keyboard and Mouse
It is also possible to connect a keyboard and mouse to our analyzers if this your preferred way of data entry.
Bar Code Scanners
If your samples are identified by a bar code we also support the direct connect of bar code scanners to the instruments. Scanned bar codes are automatically added as sample IDs. For autosampler models the cursor automatically moves to the next sample ID field and activates the scanned position for the next measurement run.

Data Output Capabilities
Our instruments come with the latest connectivity options. This include a LAN connection, 5 x USB-A, 1 x USB-B, RS232 connection and Wifi connection via external USB-dongle.
LIMS
Using LAN or RS232 allows to directly hook up our instruments to any Laboratory Information Management System (LIMS). Measurement data can be transfered manually to the LIMS or the analyzer can be configured to automatically output its measurement results to LIMS.
Printers
The same holds true for printing. All instruments can print via the network connection or by a directly connected printer.
Configuration
The outputs can be configured freely by the user. All measurement parameters, such as temperatures or used methods are also available as the measurement results, the operator names and sample IDs. It is just a matter of how you want to configure your output.
Data Storage
All measurement data can be exported to USB sticks in text file format or as Excel readable CSV files. Using an FTP client allows to download any measurement data from a PC. Additionally we offer a windows program to access that data.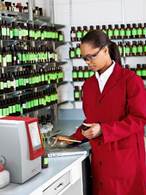 Desktop Software
Our RCS software is capable to connect to an unlimited number of eralytics analzers at the same time. This software not only downloads data from the instruments but it can also upload configuration files for LIMS and printer output from the PC to the analyzer. Additionally it prints results directly on any connected printer. Downloaded data is available even if the instrument isn't connected anymore.
The optional remote control capability allows to enter all relevant parameters for a measurement on the PC first and start the measurement on the analyzer from the PC afterwards. Especially for the autosampler instruments this increases the comfort of data entry.
Optional 10-Position Autosampler
All eralytics analyzers can be equipped with a 10-position autosampler. For ERAVAP, ERASPEC, ERASPEC OIL, and ERACHECK this autosampler is directly attached to the instrument maintaining their portability. An upgrade of existing instruments is easily possible.
For our flash point testers this is not possible due to the way the sample is introduced into the measurement chamber. For this measuring case, we have our standalone device, the 10-position flash point autosampler ERAFLASH S10 available.