ผู้ผลิตเครื่องวัดค่าการหักเหแสงของตัวอย่าง (Automatic Refractometer) เครื่องวัดค่าความหวาน (Automatic Brix Meter) เครื่องวัดค่าความเค็มแบบอัตโนมัติ (Automatic Salt Meter) มีให้เลือกทั้งแบบตั้งโต๊ะ (Benchtop) และแบบพกพา (Handheld) เครื่องวัดค่าความหวาน (Brix Meter) เครื่องวัดค่าแอลกอฮอล์ (Alcohol Meter) เครื่องวัดค่าความเค็ม (Salt Content) เครื่องวัดค่ามุมโพลาไรเซชั่นแบบเข็มและแบบอัตโนมัติ (Analog & Automatic Polarimeter) เป็นต้น นอกจากนี้ยังให้บริการสารมาตรฐาน (Certified Reference Material – CRM) สำหรับการสอบเทียบเครื่อง Refractometer และ Polarimeter ที่ได้รับการรับรองตามมาตรฐาน UKAS, ISO17025 Accredited Calibration Lab
---

Laboratory refractometers / เครื่องวัดค่าการหักเหแสง ความหวานของตัวอย่างแบบดิจิตอล
เหมาะสำหรับการวัดค่าการหักเหแสง (nD) ของตัวอย่างของเหลว เช่น น้ำมันหล่อลื่น น้ำมันเครื่องบิน สารเคมี สารลดแรงตึงผิว เครื่องสำอาง เป็นต้น และสามารถใช้ได้กับตัวอย่างที่เป็นของแข็ง เช่น กระจก เลนส์ ฟิล์ม แก้ว เป็นต้น เครื่องรุ่นดังกล่าวสามารถวัดได้ทั้งค่าการหักเหแสง Refractive Index (RI) และค่าความหวาน (Brix) รายงานค่าในช่วง 1.3 – 1.7 RI ความแม่นยำ 0.00002 RI พร้อมระบบควบคุมอุณหภูมิในตัวด้วยหลักการ Peltier Element ทำให้ประหยัดเนื้อที่ในการใช้งานและไม่จำเป็นต้องต่อเข้ากับอ่างควบคุมแบบเย็นอีกต่อไป นอกจากนี้ยังมีหน่วยการวัดพิเศษ เช่น D1218, D2140 (Carbon Type), D5006 (FSII) พร้อมโปรแกรมการสร้างหน่วยการวัดใหม่ตามความต้องการของผู้ใช้งาน
For precise measurement of concentration. Our expertise in optical engineering, electronics and software design has enabled us to create instruments that are used extensively throughout the world's food, drinks, pharmaceutical, chemical and petroleum industries. More »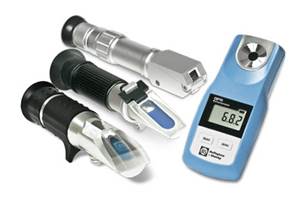 Handheld refractometers / เครื่องวัดค่าการหักเหแสง ความหวานของตัวอย่างแบบพกพา
The use of a hand refractometer facilitates convenient and rapid measurement of concentration in a number of liquid and semi-solid samples. Bellingham + Stanley offers a complete choice of hand held refractometers starting with the E-line economy range of optical to the OPTi digital models that provide the most accurate performance in its class.
More »
---


Food & Beverage
Food applications include the measurement of sugar in grape must and other fresh fruit, processed food, sugar solutions and beverages.

Industrial
Including refractometers ideal for car mechanics and fleet managers wishing to check the concentration of both Diesel Exhaust Fluids (DEF, AdBlue®) and antifreeze.


Life Science
Sports science is now a key to success and refractometers play a vital role in ensuring optimum levels of hydration are maintained during training and competition.


OPTi+
OPTi+ hand held refractometers extend the measuring range of half Brix OPTi. Covering the complete Brix range, the OPTi+ is a perfect instrument for a wide range of applications.
Polarimeters / เครื่องวัดค่ามุมโพลาไรเซชั่นของตัวอย่าง
---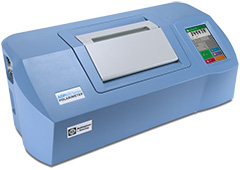 ADP600 Series Polarimeters / เครื่องวัดค่ามุมโพลาไรเซชั่นแบบอัตโนมัติ
The ADP600 Series of Peltier temperature controlled polarimeters are designed to meet the needs of the most demanding applications within the chemical, pharmaceutical & food sectors making it an ideal instrument for scientists wishing to research the characteristics of chiral compounds. The ADP600 Series comprises of six models varying only by the wavelength of measurement, including the highly sensitive ultra-violet region. All ADP600 series Polarimeters are capable of measuring to four decimal places at constant temperatures of temperatures of 20 & 25 °C, set by an integral METHODS system accessed via a high definition touch-screen user interface. The ADP600 Series polarimeters are compliant with all elements of Pharmacopeia and are suitable for use in high security environments operating in accordance with FDA regulation 21 CFR part 11
Full technical specifications for ADP600 Series
---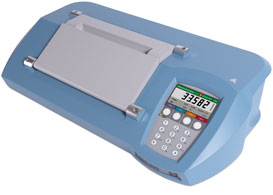 ADP400 Series Polarimeter / เครื่องวัดค่ามุมโพลาไรเซชั่นแบบอัตโนมัติ
ADP400 Series polarimeters not only offer three decimal place measurement, they are also packed full of features normally only expected from high-end instrumentation.
There are two models:
the ADP450 with patented XPC technology that uses Peltier to control sample temperature.
the ADP430 for use where no temperature control is required or for operation with automatic temperature compensation (ATC) or a waterbath.
A METHODS system allows rapid instrument configuration. Setting the scale, (optical rotation, sugar, Specific Rotation, concentration, etc.), selecting the reading type (continuous or single-shot) and limit checking against pre-defined product specifications is simple. High security software fulfils the operational requirements of FDA regulation 21 CFR Part 11, electronic signatures. User access is configurable and protected with password entry via keypad or RFID tag. Audit trails of readings and configuration are easily viewed on the 4" (10cm) full colour display or downloaded via USB or LAN/Ethernet.
Both instruments conform to the minimum requirement of USP/EP/BP for sodium (589nm) measurement.
Full technical specifications for the ADP430
Full technical specifications for the ADP450
---

ADS Saccharimeter / เครื่องวัดค่ามุมโพลาไรเซชั่นของน้ำตาลแบบอัตโนมัติ
By definition, a Saccharimeter is a purpose built polarimeter that displays results in the ISS (°Z) scale. Designed with the sugar industry in mind, Bellingham + Stanley offer two Saccharimeters that differ only by the wavelength used for the measurement process. The ADS420 Saccharimeter uses the traditional Sodium wavelength whilst the new ADS480 Saccharimeter facilitates 'lead-free measurement' as it operates in the NIR bandwidth. Both models feature low maintenance LED light source technology not available anywhere else on a fully automatic digital instruments of this type. ADS Saccharimeters are available in a number of supply formats to allow for easy procurement and installation, whether for single sample analysis or as part of an automated Tare House receiving system.
Full technical specification for ADS420
Full technical specification for ADS480
---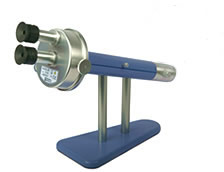 Model D7 and LED light source / เครื่องวัดค่ามุมโพลาไรเซชั่นแบบเข็ม
Specifically designed for teaching environments and laboratories that have a low throughput of samples, the Model D7 polarimeter is a high quality, relatively high accuracy optical polarimeter that blends classic operation with modern day technology.
Full technical specification for Model D7
Refractometer Accessories / อุปกรณ์ประกอบเครื่องวัดค่าการหักเหแสง เครื่องวัดค่าความหวาน

Enhanced Protection Pack (EPP) Click here for details
The enhanced protection pack (EPP) provides extra protection to RFM800, RFM900, RFM300+ and Pro-Juice refractometers when used in factory environments where water jets are used for general cleaning purposes. Side pods replace the standard filter arrangement whilst the exhaust extension offers further protection at the rear of the instrument. Fitting of the EPP requires no special tools or skills.

Flowcells for RFM Refractometers
Flowcells may be used to facilitate measurement within an automated system or where a high through-put of samples is required to be analyzed.
RFM700 Flow Series
RFM300+ Flow Series
RFM990 Flow Model


Autosampler Systems
In certain circumstances Bellingham + Stanley instruments may be incorporated within autosampler systems. Please contact B+S with your application requirements for further advice.

Spectral Sources Click Here
Light sources for Abbe refractometers and Model D polarimeters.


Abbe 5 Light Source Click Here
Incandescent light source with integral intensity control for Abbe 5 refractometer.
---
Polarimeter Accessories / อุปกรณ์ประกอบเครื่องวัดค่ามุมโพลาไรเซชั่นแบบเข็มและแบบอัตโนมัติ

Standard Glass Polarimeter Tubes Click here for details
ICUMSA standard glass tubes.
Length: 50-200mm
Internal diameter: 8mm
Metal End Tubes now available!


Low Volume Polarimeter Tubes Click here for details
For precious samples or samples with high optical rotation.
Length: 5-50mm
Internal diameter: 5mm


Funnel and Flow through Polarimeter Tubes Click here for details
For automated systems and sugar applications


Quartz Control Plate Saddles Click here for details
For verification and calibration.
---
General Accessories / อุปกรณ์ประกอบทั่วไป

Waterbaths Click here for details
Heat only or Heat/cool circulating baths for controlling the temperature of measuring instruments.


Printers Click here for details
Dot-matrix printers for use with B+S refractometers and polarimeters for direct recording of data; some fitted with real-time clocks for connection to instruments that do not have GLP software.


Barcode Reader Click here for details
Automatic data retrieval from product barcodes. Suitable for use with RFM300+/RFM800 & ADP440 instruments.


Splash Covers Click here for details
Protects the display from ingress and chemical attack. Suitable for use with RFM300+/RFM800 & RFM700 series refractometers as well as the ADP400 series of polarimeters.

Waterproof Power Supply Click here for details
Offering extra protection in very wet or humid environments, waterproof power supplies may be ordered as an optional extra and are rated IP65.


PC Software for B+S instrumentation – A no-charge accessory!
Bellingham + Stanley Ltd. offer a number of PC software packages for use with refractometers and polarimeters, including: sugar purity, Abbe scale conversion, spectral line identifiers, user defined scale creation, user defined temperature compensation creation, data acquisition & process software. A complete list of software packages can be seen by clicking here that may be downloaded 'free of charge* from this website.
Product Literature Downloads / คลิ๊กรูปภาพด้านล่างเพื่อดาว์นโหลดรายละเอียดสินค้า
Digital Laboratory Instrumentation
Hand Held Instrumentation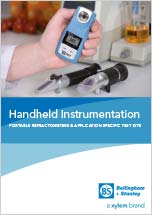 Certified Reference Materials