ผู้ผลิตเครื่องทดสอบปริมาณน้ำในน้ำมันโดยวิธีการไตเตรตแบบอัตโนมัติ โดยหลักการ Coulometric Karl Fischer Titration สามารถทดสอบกับตัวอย่างของแข็ง เม็ดพลาสติก สารเคมี ตัวทำละลายไฮโดรคาร์บอน น้ำมันหล่อลื่น น้ำมันเชื้อเพลิง น้ำมันดีเซล น้ำมันเตา น้ำมันที่ระเหยยาก เป็นต้น เครื่องหาปริมาณน้ำดังกล่าวมีจุดเด่นในการทดสอบนอกสถานที่โดยไม่ต้องใช้ไฟบ้าน และสามารถใช้ได้กับแบตเตอรี่สำรองที่อยู่ในเครื่องได้โดยตรง ทำให้สามารถทดสอบได้ทุกที่ ตามความต้องการของผู้ใช้งาน นอกจากนี้ยังมีเครื่องทดสอบค่า Hydrogen Sulfide ทั้งแบบตั้งโต๊ะและแบบติดตั้งในส่วนการผลิต เครื่องวัดค่าแอมโมเนียในก๊าซ (NH3 in Gases) เครื่องวัด Total Dissolved Gas in Oil และเครื่อง Gas Chromatography แบบทดสอบนอกสถานที่
Aquamax KF Plus
in-lab ppm water determination in liquid samples

Aquamax KF Portable
on-site ppm water determination in liquid samples

Aquamax KF PRO LPG
Water determination in gases according to standard ASTM D 7995 - 19

Aquamax KF PRO Oil
Water determination in oil samples according to standard ASTM D 6304

AQUA 40.00 Basic Module
Water content of liquid samples and gases

AQUA 40.00 Vario
Water content of solids, pasty samples, oils, suitable also for hygroscopic samples, for larger sample volumes (0.5 up to 100 mL), as manual version or with autosampler, for vial sizes 2 R up to 50 R (heating temperature up to 300 °C)

AQUA 40.00 with HT 1300
High Temperature Oven Module for water determination in solid, pasty and liquid samples at heating temperatures up to 1300 °C

OnlineH2O
Online determination of water content in oils
Alkalinity Titrator
Determination of carbonate and bicarbonate hardness of water

Bromine Titrator
Determination of Bromine Index or Bromine Number of hydrocarbons according to standards
- ASTM D 1159
- ASTM D 2710
- ASTM D 5776

KF Titrator
Volumetric water determination in liquids

Sulfur Titrator
Determination of hydrogen sulfide and mercaptan sulfur in hydrocarbons and oils according to standards
- ISO 3012
- ASTM D 3227
- UOP 163
- UOP 212

TAN/TBN Titrator
Determination of total acid or base number of oils and fats according to standards
- IEC 62021-1
- ISO 3771
- ASTM D 664
- ASTM D 2896
- ASTM D 4739
H2S ANALYZER Lab
Determination of hydrogen sulphide in liquids and gases - laboratory version, automatable with autosampler for liquids

H2S ANALYZER Cubi
Determination of hydrogen sulphide in liquids and gases - compact version for laboratory use or on-site measurements

Headspace Module
Module to extend the H2S ANALYZER Lab or Cubi for analysis of solid samples

OnlineH2S for gases
Continuous quantitative determination of hydrogen sulphide (H2S) in gas mixtures

S-Online
Online determination of sulphides/H2S in wastewater even below the odor threshold
Analyzer for online determination
of NH3 in gases
The OnlineNH3 is used for the continuous quantitative determination of ammonia gas (NH3) in gas mixtures.

The system is designed with an integrated dilution step for measurement of very high concentrations (100 - 20000 ppm). Also very low contents in the range of odour treshold (0.1 - 100 ppm) can be measured.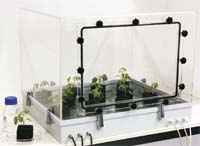 PhytolabelBox
Device version for particularly high
plants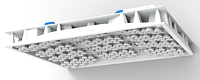 Illumination Module for
PhytolabelBox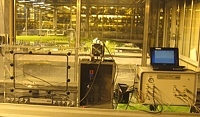 PhytolabelBox in the greenhouse
Cultivation of plants in controlled atmosphere

Regulation of oxygen (O2) and carbondioxid concentrations (CO2)
Labeling of plants by introduced 13CO2

Additional control of air pressure, humidity and temperature

Available as fitting version for the application in incubators
The PhytolabelBox is developed for controlled plant breeding. Constant conditions inside the cultivation box are achieved by automatic control of the composition and property of the atmospheric gases. Therefore, the phytolabelbox is suitable for test series about plant growing and metabolism.
The PhytolabelBox is equipped with different gas connections for synthetic air (20 % O2 / 80 % N2) or, if requested, a separate supply for oxygen and nitrogen, and carbon dioxide. Furthermore, it comes with a fused drain for exhaust air. The humidity is kept at the desired level by an effective Peltier cooling unit. A slight overpressure of 10 mbar against the ambient pressure can be set.
When running long-term experiments, the plants can be supplied individually with water and nutrients via additional supply lines.
Moreover, the PhytolabelBox can be used in incubators at temperatures between 10 °C and 40 °C and in the ambient pressure range of 955 hPa to 1061 hPa. The gas supply, the measuring and control unit as well as the computer are located outside of the incubator.
The Illumination Module extends the possibilities of the PhytolabelBox. The luminous colour and illumination intensity are adjustable. Various climatic conditions can be simulated.
GloveBox for working under exclusion of air

The SnLayer - Thickness of tin layers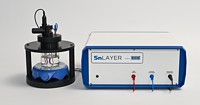 SnLayer - Analyzer for thickness
of tin layers
The thickness of the non-alloyed and alloyed tin layer on thin copper wires can be measured with high accuracy in a short duration by the electrochemical Analyzer SnLayer.
The coulometric determination of the thickness of the tin layer at the copper wires based on a newly developed procedure: the technique of voltammetry with a multiple potential-ramp.
The total amount of tin as well as the non-alloyed and the alloyed tin-part is detectable in only one measurement.